Description: 
The Quality Manager shall effectively manage all aspects of Quality. Driving, educating, advising, and ensuring the compliance inc the implementation and continuous improvement in all Quality & ISO policies, procedures, and strategies to each department within the organisation.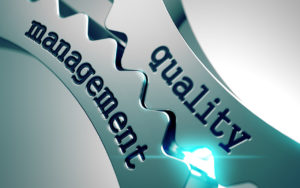 Quality Manager Responsibilities:
Lead the continuous Quality improvement & cultural change across the business. Managing Departmental team meetings and ensuring key deliverables are actioned and embedded. Ensuring all departments are compliant with company's quality policies. ISO are actioned by each department responsible and maintained and updated to accommodate significant change. 
Liaising with company Directors on quality planning and the formulation and development of the company's Quality Management and Audit System. 
Development of the company Quality Strategy.  
Plan, co-ordinate and support the carrying out of internal and external audits. 
Participate in Senior Management meetings.  
Ensuring Quality standards, procedures and monitoring systems are formulated and applied to the business. 
Added Value – Endeavour to demonstrate added value to the Business from Quality and training activities.  
Working closely with Directors and having a commercial outlook on Quality activities. 
Benchmark Quality activities to ensure continuous improvement and effective communication across all levels of the organization. 
Reporting, analysing, and forecasting trends and solutions from board level to site operational level. Promoting quality awareness across all levels of the business through leading by example. Development, coaching, and mentoring to enable successful succession planning. 
Knowledge of Quality requirements, methodologies, processes, and techniques within the Construction Sector. 
Knowledge and awareness of Customer Service and understanding of its impact on business performance. Knowledge and awareness of PDCA – continuous improvement within existing and new processes. 
In Dept Knowledge of ISO 9001 
To Keep abreast of applicable HSE legislative changes and other interested parties related requirements. Lead operational reviews and change requirements to maintain compliance. 
Conduct quality internal compliance, investigation, and schedule ISO audits for each department to complete, overseeing the delivery of corrective action outcomes and effective records 
Skilled in the successful Quality management, supervision, and delivery. Assist with Tender Submissions. 
Ability to work at a strategic, tactical, or operational level. 
Exceptional leadership, motivational and people skills, with demonstrable coaching abilities. Weekly and monthly performance reports. 
Demonstrable pro-active and motivated approach. 
Sets demanding Quality targets within each department with determination to achieve and deliver them in line with companywide strategy. 
Pragmatic approach to compliance, auditing and implementation of policies and procedures within each department. 
Liaise with suppliers & carry out audits on their facilities in line with our ISO policies 
Ability to influence at all levels of the organization. 
Requirements:
Engineering Degree
ISO 9001 Internal / External Auditor qualifications an advantage
Safe Pass / Manual Handling
More Information
Salary Offer

On Application , Very competitive package. Pension , Health Insurance, Annual bonus.

USD

On Application , Very competitive package. Pension , Health Insurance, Annual bonus.

Month