JOB DESCRIPTION/SPECIFICATION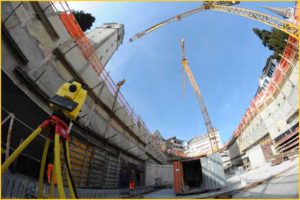 Setting-out, positioning and checking of construction fixtures, fittings and building modules, including pre-cast and pre-fabricated civil and mechanical modules, using surveying equipment and techniques. 
Installing secondary and tertiary level control points (datums) for precise positioning of tools and their base pedestals, on various levels and surfaces, using Total Stations. 
Location of relevant drawings in the BIM360 resource centre, accurate interpretation of drawing details, processing of field set-out geometric data in various formats including DXF, DWG, CSV, IFC and transferring the processed data into field machines, tablets and data loggers. 
Checking and ensuring good working condition of all survey equipment before use, periodic review of calibration certificates for survey equipment, safe storage and care of survey equipment, general safety and risk assessment during execution of engineering tasks. 
Daily reporting and uploading onto cloud sharepoints, of work output and details. 
RESPONSIBILITIES AND KEY RESULT AREAS 
Undertaking a full range of measured building surveys and area referencing surveys. Assisting the senior surveyors in the team. There will be a balance of site and office-based work.  
Ensure that all work output conforms to project requirements and meet the necessary company standards on quality, data management and health and safety. 
Taking responsibility for data, from its collection to final delivery, using the most appropriate technology and methodology to meet the project specification. 
Target Key Performance Indicators (KPIs) will be established and reviewed in regular reviews to aid your development in the team. 
Responsible for recording time accurately and completing weekly timesheets. 
SKILLS AND COMPETENCIES 
Knowledge of surveying equipment and techniques. 
Good mathematical, analytical and engineering problem solving skills. 
Good computing skills, Excel, MS Office, knowledge of AutoCad is essential, other engineering packages like Revit, Tecla, Navis, Infraworks are added advantages. 
Ability to learn and undertake the surveys, process survey data, prepare drawings and report. 
Good communication, time management, quick to learn, self-motivation 
QUALIFICATIONS AND EXPERIENCE  
A degree qualification or equivalent in Geomatics, Civil Engineering or other land surveying related course. 
Good working knowledge of Autocad, Microsoft Word and Excel. 
Clean driving licence and own vehicle preferable. 
Safe Pass & Manual handling
More Information
Salary Offer

On Application , competitive package. Pension scheme , Health Insurance, Annual bonus.

USD

On Application , competitive package. Pension scheme , Health Insurance, Annual bonus.

Month